Eidskog municipality – targeted and innovative work over time
Hepro 27/01/2023
Eidskog municipality has invested into welfare technology solutions and services with an exciting new agreement with Hepro AS.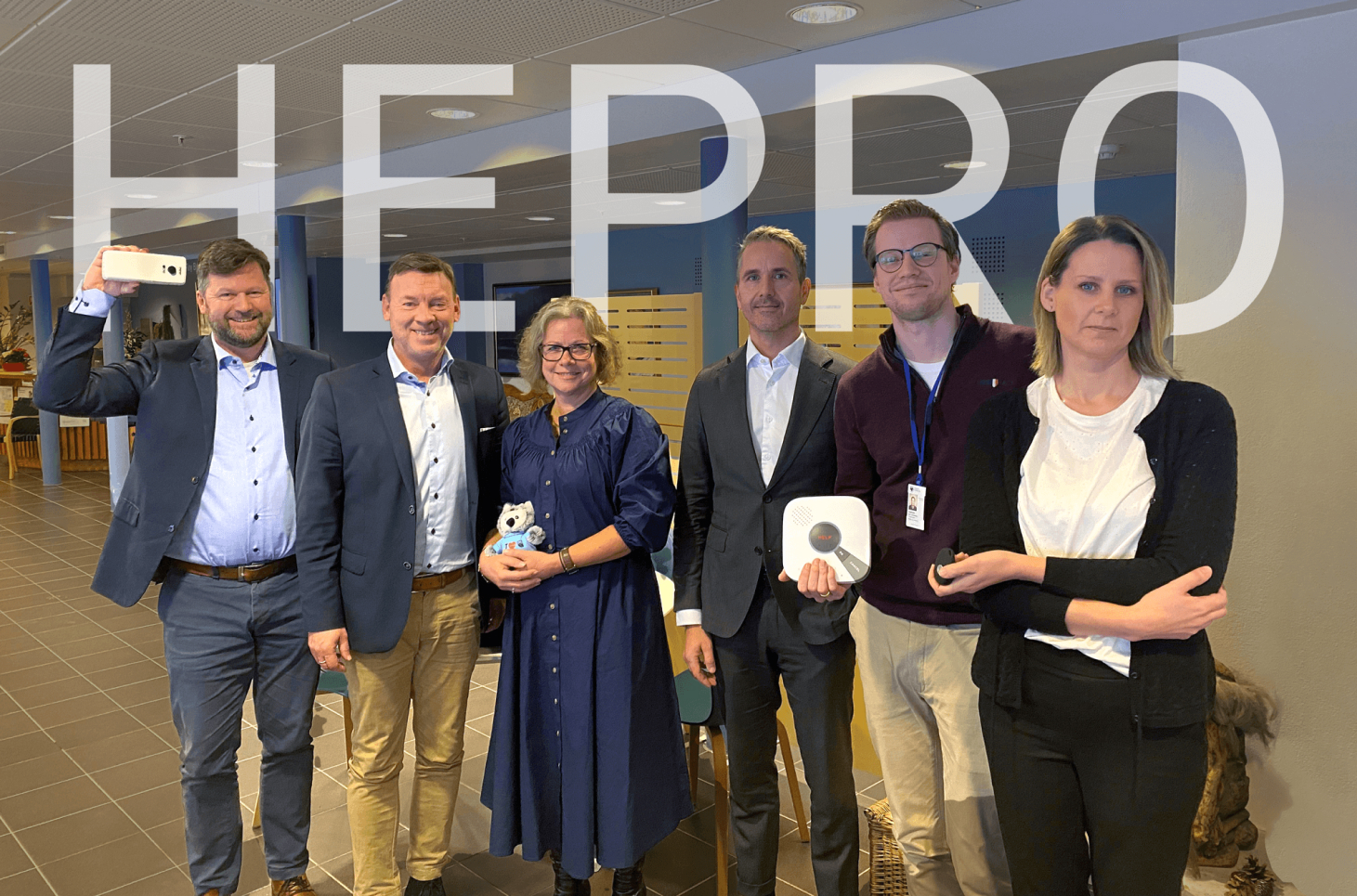 The agreement is one of the larger agreements Eidskog municipality has entered into, with a duration of 4 years, worth NOK 17.5 million. The focus on welfare technology will be used to create a secure framework for the individual's life and coping with their own health, and for health personnel to use their expertise and time efficiently with the patient.
Hepro is already well underway with the delivery of the first part of the assignment. By 31 January, Eidskog municipality will replace more than 200 safety alarms for people living at home and a new response centre will be put into use. During the spring there will also be new technological solutions at Helsetunet, Koppangtunet and Skotterudtunet. All three institutions will have state-of-the-art nurse call systems. To succeed with the implementation, employees will be trained partly in "classrooms", and they will also have the mobile learning tool SkillAid available all the time – even after the technology has been adopted.
Hepro turns 35 years as a company this year, and the headquarters for welfare technology is located in Elverum, like Eidskog municipality in Innlandet county, namely in Elverum. Today, Hepro is one of the country's leading suppliers of welfare technology. Hepro uses the welfare technology platform Hepro Respons, which is a seamless and scalable platform and hub for all welfare technology. The platform has become a favorite among institutions, nursing homes and home-dwellers across the country.
"For us, welfare technology is about creating security, coping, well-being and good everyday life. The success lies in a combination of talented people, the right technological choices and trust in forward-looking municipalities," says CEO Geir Tore Jakobsen.
-For Eidskog municipality, welfare technology represents a particularly important supplement and tool in our ambition to provide our citizens with the best possible services, says Councillor Trond Stenhaug. Welfare technology has been  central to our ongoing development work in recent years, and we are particularly pleased to be able to raise both our ambitions – and the quality of our services –  to our citizens, even more so through the funds we now have access to. And not least  our cooperation with Hepro AS, as our partner to realize much of this, Stenhaug continues.
"It is a clear fact that tomorrow's solutions are not delivered with today's technology and procedures. Welfare technology contributes to innovation and development in the municipality, and we get the opportunity to think of new solutions in a completely different way, when technology and creative employees meet," says Stenhaug. We also know that the care sector faces major challenges in the years to come, especially with regard to the ageing population. Welfare technology is one of several tools to meet these challenges as well. Technology should not replace necessary services, but be an important supplement to create increased security. With over NOK 10 million in grants, we are very pleased to be able to continue our targeted development work over the next few years.
Business Manager Evy Anne Vestli Heggen emphasizes that Eidskog municipality has always had and has a tradition of good health services, with Hepro AS on the team we are sure that it will continue also in the future. Eidskog municipality has assessed Hepro AS as the best supplier for us in Eidskog, so that our colleagues and residents can take part of tomorrow's solutions.
"In the process, Eidskog has had full focus on the health and care sector as a whole, so that we have gathered all solutions from one supplier, regardless of whether you live at home or in an institution. In this way, all solutions will be recognizable to both users and personnel regardless of where in the service you are located. The delivery has been endorsed by the Norwegian State Housing Bank, so that grants will partly finance the initiative.
"The initiative is in line with national guidelines and recommendations. We look forward to getting started," conclude both Stenhaug and Vestli Heggen.