= 50 ? scrolledFromTop = true : scrolledFromTop = false" :class="{'h-[90px]': !scrolledFromTop, 'h-[75px]': scrolledFromTop}">
Long-term profitable growth
AddLife develops and acquires profitable market-leading companies in selected niches within Life Science. Our goal is to achieve long-term growth and sustainable development.
Small scale business - Large scale wise
AddLife combines the strength of a large enterprise with the dedication and business skills of an entrepreneur. The parent company is an active owner with a focus on each subsidiary to promote growth and improve profitability. The subsidiaries are responsible for their own business activities within the context of the requirements that the group sets for growth, profitability and sustainable development.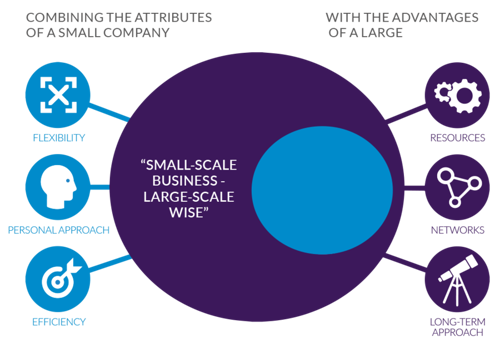 The combination of the strength of a large enterprise with the commitment and business skills of the entrepreneur is an important factor for success for the AddLife group
 
An entity that works​
We combine the advantages of the subsidiaries, such as flexibility, personal approach and efficiency with AddLife's aggregate resources, networks and industrial expertise. AddLife is an active owner that prioritises business development together with the companies. In this way the group can optimise long-term sustainable growth and profitability. Our decentralised corporate structure also entails less dependence on individual customers and suppliers.​
Market leader in selected niches​
The Life Science market is large and relatively fragmented and overall, AddLife has a small market share in Europe. We are active in several attractive niches in various product segments and have established stable and growing sales in these areas. We are currently the market leader in several specific niches, across different geographies including: biomedical research and laboratory analysis, diagnostics such as blood gas analysis, medical technology, such as surgery and welfare technology.
Customer contacts in our operating subsidiaries
All contacts and business relationships with customers are localized and take place in our operating subsidiaries. Our customers, which can be found in both the private and public sectors, are primarily hospitals, homecare, laboratories within the healthcare sector, research, colleges, universities and the food and pharmaceutical industries. The majority can be found in the public sector, where sales take place through public procurement.